Office Hours: By appointment
Monday – Friday, from 7:30 AM to 5 PM
210-690-2273
210-321-2226 (fax) or 321-2228 (fax)
For your physician, enter the appropriate number when prompted:
Dr Aguirre: 10    Dr Beck: 11    Dr Oliver: 12
Dr Ana Rodriguez: 13    Dr Manuel Rodriguez: 14    Dr Roldan: 15
Dr Sanchez: 16    Dr Senger: 17    Dr Smith: 18    Dr Wysoki: 19
Appointments:
Please call for an appointment during our regular business hours.  For those with electronic access through our portal, you may at any time request an appointment for a specific date and time range, and our weekday telephone staff will get back to you through the portal or by phone to confirm an appointment.
Insurances usually cover a health maintenance exam (a "physical") without charge, once per year.  This exam is preventive, and includes screening for disease, determining risk for disease, and recommending preventive measures such as immunizations and screening tests, and we ask that you come in fasting.    These exams do not include evaluation or treatment of existing problems, acute problems or medication management.  We recommend that you set up a separate appointment for illnesses and chronic conditions.  If you do have an evaluation for an illness or other health condition not related to the health maintenance exam, that may lead to additional charges to you as determined by your insurance company.
Please note that if you make an appointment but do not keep or cancel that appointment,  you may be billed $50 for that appointment.
MacGregor Medical Center – San Antonio, a primary care medical practice, commits to providing quality medical care that is accessible and culturally sensitive.  The ten board-certified physicians of MacGregor provide a broad spectrum of primary care services, with six internists, four family practice physicians and one pediatrician.
We offer preventive care, physicals and immunizations in addition to our main service of diagnosing and treating common and not-so-common ailments.
Teams of hospital-based physicians care for our hospitalized patients in San Antonio's major hospitals.
We encourage each patient to identify a MacGregor physician as his or her primary physician.
Facilities: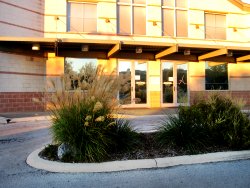 Our facilities are located are across Fredericksburg Road from USAA, at the intersection with USAA Boulevard.  We have ample free parking adjacent to our building, and our site is wheelchair accessible.
Please
click here
to download application of employment a MacGregor. Mail or drop off completed application to apply for employment at MacGregor.
Get Adobe reader: