Office Hours: By appointment
Monday – Friday, from 7:30 AM to 5 PM
210-690-2273
210-321-2226 (fax) or 321-2228 (fax)
For your physician, enter the appropriate number when prompted:
Dr Aguirre: 10    Dr Beck: 11    Dr Oliver: 12
Dr Ana Rodriguez: 13    Dr Manuel Rodriguez: 14    Dr Roldan: 15
Dr Sanchez: 16    Dr Senger: 17    Dr Smith: 18    Dr Wysoki: 19
MacGregor Medical Center – San Antonio is a primary care medical practice committed to:
Providing our patients with medical care and health education that paves the way for improved physical and mental well-being, for a better quality of life.
Providing our employees with a stimulating, professional working environment built on mutual respect and trust, clearly defined responsibilities and rewards for performance leaders.
Providing our community with a premier health care practice that is accessible, efficient and diverse.
The ten board-certified physicians of MacGregor provide a broad spectrum of primary care services, with six internists, four family practice physicians and one pediatrician. One of our physicians is a certified palliative care physician, and another a board certified pediatric infectious disease specialist with a Masters in Public Health. We offer preventive care, physicals and immunizations in addition to our main service of diagnosing and treating common and not-so-common ailments. We devote special care to our diabetic and hypertensive patients. Excellent teams of hospital-based physicians care for our hospitalized patients in all of San Antonio's major hospitals.
We encourage each patient to identify a MacGregor physician as his or her primary physician.
Facilities: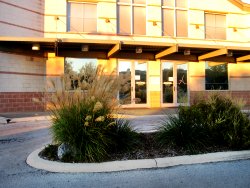 Our facilities are located in a beautiful brick, single story building across Fredericksburg Road from USAA, at the intersection with USAA Boulevard.  We have ample free parking adjacent to our building, and the entire site is wheelchair accessible.
Our spacious and well-lit entry welcomes you to the soaring waiting room, where you will find multiple receptionist areas.
Each physician works in a "pod" of an office with three adjacent exam rooms.
Please
click here
to download application of employment a MacGregor. Mail or drop off completed application to apply for employment at MacGregor.
Get Adobe reader: